Trip to Granada (Alhambra and Generalife) from Sevilla
The journey towards Granada follows the same route marked by the American writer Washington Irving in XIX century. We come across near cities and towns like Alcalá de Guadaira, El Arahal, Osuna, o Santa Fe, mentioned in his book "Tales of the Alhambra", crossing olive trees, cereal and fruit trees grounds, as well as mountains and valleys where the writer used to imagine bandits and smugglers from Andalusian mountainous regions in his romantic vision from Spain. We arrive to Granada, where we visit the Alhambra , and inside it, the Alcazaba or military fortress, the Nasrid Palaces , Granadian Sultans' residence, with its famous Courts (Lions and Myrtles Courts), the Medina, and Charles V Palace. Later on we go to the Generalife , where we visit the sultans' summer palace and its marvelous gardens around. After the visit, the vehicle will take us to the historical city centre, free time for lunch and return to Seville.
Alhambra
Tour
from Málaga and Costa del Sol
Book Here
Observaciones
El punto de recogida suele ser el hotel en donde estén alojados, o un sitio cercano. En el caso de que no estén alojados en ningún hotel, el punto de encuentro se fijará más adelante.

Si no hubiera la posibilidad de hacer un grupo en un solo idioma, en algunas ocasiones la visita podría realizarse en dos idiomas.

La reserva que no se envíe con 48 horas de antelación no será tramitada.
Datos de la visita a la Alhambra desde Sevilla
Full day trip.

Excursión de día completo.

Trip price: 149 € per person.

Departures everyday from Seville's hotel , at the time which will be indicated later on.

Includes go and return transport, guide, Alhambra and Generalife tickets.

It doesn't include lunch but we suggest you where you can find the best places.

How to pay (Secure Paymet): Paying everything in advance, by credit card or bank transfer.

Accommodation : Available here...
+34 958.225.226 +34 677.417.790
Book your Regular Tour to the Alhambra in our booking web system. For addresses beginning with HTTPS all information sent to this site, is encrypted and protected against disclosure to third parties. This also guarantees the integrity of the data being sent over the Net.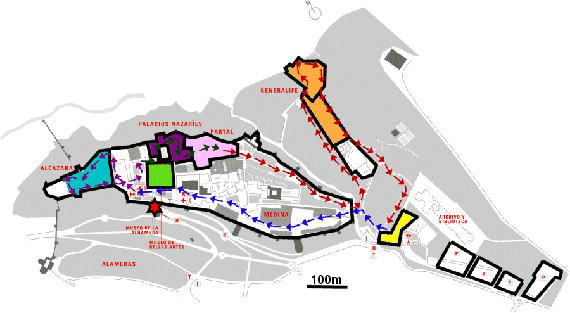 For Book your Guide Tour to the Alhambra

CLICK HERE