Alhambra Tour from Malaga and Costa del Sol
We pick you up in all the different hotels we will head towards Granada. We'll have a 25 minutes coffee break in Los Abades. Once we arrive to Granada we will follow the next points:
1. Visit to the Alhambra and Generalife 2.30 hours aprox. Alhambra is the most interesting monument in Granada and the most beautiful Arab art built in any time or any country. Alhambra is named after its reddish walls (qa´lat al Hamra). It was the leisure residence of the Nasrid Royalty. It rises over the al-Sabika Hill, overlooking the whole city. This huge precinct and its surroundings have wonderful sights over the city, above all over its main quarters (Albaicin, Alcazaba,.). Inside the Alhambra we stressed the Lions Court, named after the fountain in the centre laying over 12 lions; the Court of the Myrtles, where the central pond reflects the light inside the rooms around; the Ambassadors Room, whose ceiling represents the seven heavens of Islamic cosmology; Charles V Palace. Generalife is adjacent to the Alhambra. In the Generalife you will admire beautiful water games, ponds, and really well cared gardens plenty of flowers.
2. Buffet Lunch in Hotel Guadalupe, in front of Alhambra Car Park. (Optional, lunch extra charge 18,00 € Adults, 13,50 € Children.)
3. Free time in the city centre.
Further details
The meeting point is usually your hotel or a hotel nerby. The meeting point will be fixed later.

If there was no possibility to make a group in a single language, in some occasions the visit could be carried out in two languages.

To make a reservation, please fill the following form. We will contact you soon to inform you how to pay. Once it is done, we will send you the confirmation of the visit.

Any booking application should be sent 48 hours in advance.
Details
Full day trip.

Trip price: See diagram below.

Departures on Tuesdays, Wednesdays, and Fridays: See diagram below. * This tour is not avalaible on Wednesdays from December to February.

Guaranteed languages: Spanish, French, and English. (Ask for German and Italian).

Children: Up to 3 years old, free without services. Children prices availables from 4 to 11 years old.

Buffet lunch in Hotel Guadalupe. (Optional, lunch extra charge adults:18,00 €. Children: 13,50 €). Please, indicate in your reservation form if you are having the lunch.

Incluye transporte de ida y vuelta, guía, entradas a la Alhambra y el Generalife y almuerzo (opcional).

Includes go and return transport, guide, Alhambra and Generalife tickets, and lunch (optional).

How to pay (Secure Paymet):Paying everything in advance, by credit card or bank transfer.

Accommodation : Available here...
+34 958.225.226 +34 677.417.790
Book your Regular Tour to the Alhambra in our booking web system. For addresses beginning with HTTPS all information sent to this site, is encrypted and protected against disclosure to third parties. This also guarantees the integrity of the data being sent over the Net.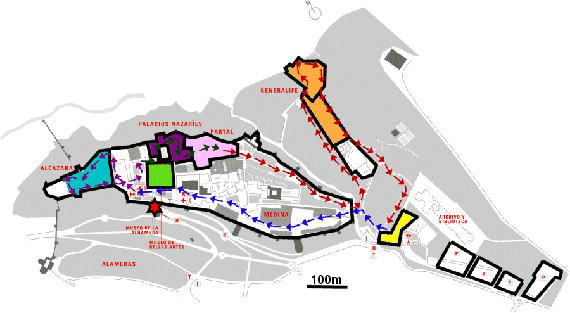 Trip price
| Recogida | Precio Adulto | Precio Niños (4-11) años | Precio Niños (0-3) años |
| --- | --- | --- | --- |
| MÁLAGA CIUDAD | 80 € | 60 € | 0 € |
| TORREMOLINOS - FUENGIROLA | 77 € | 57,75 € | 0 € |
| MARBELLA | 84 € | 63 € | 0 € |
| ESTEPONA | 91 € | 68,25 € | 0 € |
BOOK YOUR TICKETS ONLINE FOR THE ALHAMBRA!

Click here