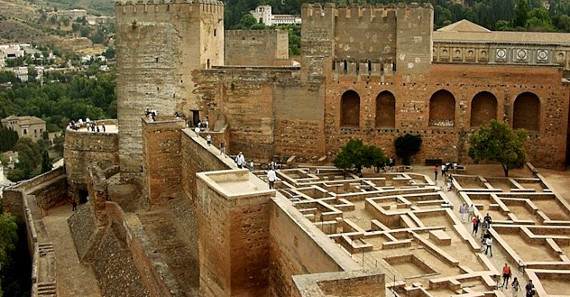 Granada Monumental Center
If you´re looking for a personal tour in the center of the city to visit the most emblematic monuments, take this option. We´ll take you to the Royal Chapel, (pantheon of the Catholic Monarchs, Isabel and Fernando), to the Cathedral of the Encarnation (a wonder of the Spanish Renaissance), to the Madraza (medieval koranic school) and finally, after a walk across the Alcaicería, (the old silk market arab style), we will see the Corral del Carbón, (the XIV century caravenserai; a medieval hotel for merchants and their precious articles). As this is a private tour, you pay for the service itself not per person, so thirty people would pay like one.
Granada Tours
Walks through the streets of Granada where you can see its monuments, squares and buildings, discover and learn about different periods in the history of Granada: the Alhambra and the Generalife, the Cathedral, Capilla Real, the Albaycin and the Carrera del Darro, the typical carmenes of Granada. If you want a guided tour, with a guide just for you or for your group, this is your tour. If you want a guided tour, with a guide just for you or for your group, this is your tour. The maximum number of people per group is 30, if this number is exceeded, you will have to hire a second guide.
+34 958.225.226 +34 677.417.790
Book your Private Guide Tour Granada Monumental in our booking web system. For addresses beginning with HTTPS all information sent to this site, is encrypted and protected against disclosure to third parties. This also guarantees the integrity of the data being sent over the Net.
Details
PRICE:

170 € + entrance fees. Royal Chapel 4,00 € per person . Cathedral 4,00 € per person.*The price of the visit on saturdays, sundays and holidays will be 206 € + tickets.

Including: Guiding services by the Granada Official Guides (members of AGIP, local association of professional Guides).

Timing: 2.30 hrs approx.

Itinerary: Royal Chapel, Cathedral, Madraza, Alcaicería and Corral del Carbón.

Language : English, french and spanish guaranteed. Ask for others.

Payment: In advance. Bank transfer or credit card (except American Express).

More information telephone: 00 34 677 417 790
Admission fees and transportation are not included and the tickets-entrances will be paid in the moment to visit the Real Chapel: 4,00 € and the Cathedral of Granada: 4,00 €. The meeting point is usually the entrance of the Royal Chapel. To make a reservation please fill up the next form. We will tell you how to make the payment, and once it is made, we will send you the confirmation of the reservation. Any booking application that is not sent 48 hours in advance will not be dealt with.