The Royal Orchard
This was the country residence of the sultan, the orchard which provided the palaces with food supplies, and a recreational area for the nobility. This vast fertile terrain was created by diverting the course of the river Darro with huge canals that reached up to the Generalife. The colourful and outstandingly beautiful Acequia Courtyard serves as the entry point into the premises. The building consists of two structures located at each end of a large courtyard, with a pool in the middle. The recreational area of the Generalife, built between the 13th and 14th centuries, lies on the slopes of the Cerro del Sol, and offers breathtaking views.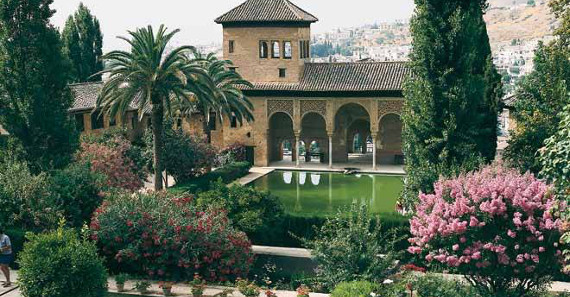 Book your tickets online for The Alhambra!

CLICK HERE
El Generalife
The Generalife, located on Cerro de Sol, is accessed from the main entrance and, depending on your time slot for the Nazrid Palaces is a good place to start your tour of the Alhambra. It features the Summer Palace of Granada's Rulers and a complex of multi-leveled patios, walkways, fountains and walled gardens. It is a wonderful, tranquil place to while away an hour or so strolling along the paths and catching glimpses of the main Alhambra buildings, the city and the mountains as you go. You will also find plenty of shady spots for a picnic here.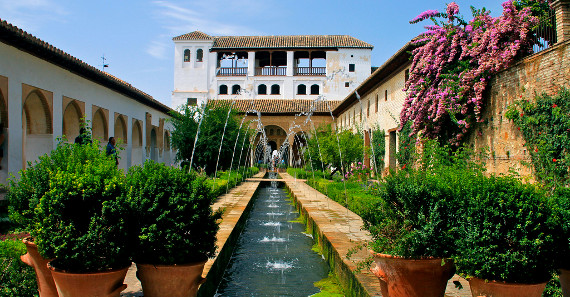 The name «Generalife» means «garden of the architect». The Generalife is located on the hill Cerro del Sol, adjacent to the Alhambra. Originally it was most probably an architect's house that later passed to the Arab kings and was remodelled. The Generalife is composed of a series of large gardens, where every corner holds a novelty and a pleasant surprise for the eyes, with a minimum of obtrusive buildings. Some buildings within the Generalife are 'parasitic' structures, the work of later Christian hands, such as the West Gallery in the eastern part of the gardens, and two levels that rise at the northern headwall. The Patio is the true heart of the Generalife. Here, Arab sensuality becomes sparse yet spiritual.
The most beautiful and striking features in the Generalife gardens are the plants, the water with its continuous interplay with light, and its sounds.
Es muy probable que cuando salgas de los Jardines del Generalife te sorprenda un sentimiento de nostalgia y felicidad a la vez. Tranquilo, es muy normal: acabas de abandonar el «paraíso»,... pero puede volver las veces que quieras.